Everyone knows naturally that sleep is good for you. Chronic pain patients find this very difficult to do, in spite of all the good intentions in the world. It then becomes a major component in the pain syndrome and a major contributor to increased pain and decreased health. These are followed by increased dysfunction, weaker muscles, decreased energy and mood, and worsening of anxiety and depression. There is more social isolation and more disability. This is an area that must be managed everyday, and its importance is highest on the list. A pain patient can not make progress in other areas without getting good restorative sleep.
Sleep and chronic pain have not been studied well. Many pain situations may be caused by a sleep disorder only. In these cases, a diagnostic work-up at a sleep center will define the nature of the problem and possible treatments.
PART OF THE CRITICAL NEED FOR SLEEP IS IN THE MANY RESTORATIVE FUNCTIONS THAT OCCUR, ESPECIALLY DURING DEEP SLEEP, WHICH IS STAGE 3 AND 4 OR SLOW WAVE SLEEP AS SHOWN BELOW. MANY PEOPLE HAVE SLEEP DISORDERS WHICH CAUSE POOR HEALTH, NOT JUST PAIN PATIENTS. THAT IS WHY ONE GENERALLY DOES NOT KNOW WHAT COMPONENT OF THE PAIN SYNDROME IS CAUSED BY POOR SLEEP. IT IS ONLY BY RESTORING PROPER SLEEP THAT WE LEARN HOW MUCH BETTER A PATIENT CAN GET.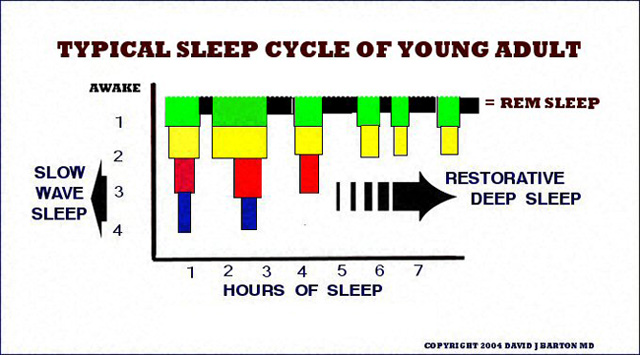 One of the most important is the release of factors that increase one's levels of growth hormone and the sex or gonadotropic hormones. Every cell in the body has receptors for these hormones and they are critical for health and well-being. Without them, one's pain will increase due to several reasons from decreased muscle strength and energy to changes in the brain and how it works.
Testosterone is important for restoration, energy and mood. It is also something the brain likes to be bathed in. It is what gives young men the feeling of indestructibility and self-confidence. It plays a similar function in women in much lower concentrations. Pain medicines (opioids) promptly inhibit the release of those hormones responsible for testosterone production, and lead to an increase in pain (which then requires greater opioids to counteract this effect). It also is needed for a healthy immune system.
Growth hormone is necessary for many things as well; from energy and metabolism of fats, proteins, and carbohydrates, to good muscle health and other restorative functions. It will decrease pain by a good amount, but not as much as testosterone.
If you don't make it during sleep, the only other way is to exercise or take Growth Hormone as a medication ( a subcutaneous "insulin-like" injection). There is no oral form of growth hormone, and vitamins and supplements do not increase one's production of Growth Hormone.
Another Hypnogram and the different brain wave patterns during the various stages of sleep: